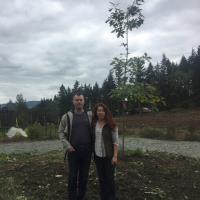 Under The Oak Farm
Contact: Heather Young
City: Duncan, BC,
Email Address: undertheoakfarmbc@gmail.com
Phone: 403-969-7205
About Us
Under the Oak Farm is 4 years old and is developing on old farmland that was untouched for 30+ years. Consisting of cleared and forested areas, we are establishing agroforestry, developing a food forest, orchards, herb gardens, pastures and a market garden.
We plan to focus on maple syrup, herbs, perennial fruit and vegetables, and pastured birds. Acorn Veggies will be focusing on our market garden and we also eagerly await there to be certification in Restorative Agriculture which is better than organic in every way.
Practices
Agroforestry, Regenerative agriculture, Permaculture, Intensive No-till Agriculture, Pastured Animals