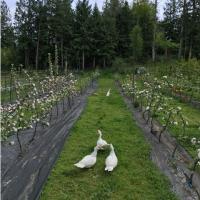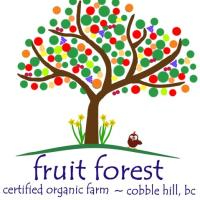 Fruit Forest Farm
Address: 802 Aros Road Cobble Hill, BC, V0R1L4
About Us
We have a 2 acre pesticide-free farm with 400 dwarfed fruit trees. Most of our trees consist of 32 varieties of Heritage and modern apples, plus cherries, peaches, figs, and even quince, lemons and limes! We also grow a limited amount of berries, including blueberries, strawberries and raspberries.


Practices
Our orchard uses poultry grazing underneath to both keep fertility and control pests. Our ducks and chickens work hard to keep our orchard looking good.

We will never spray our trees with pesticides, nor use chemical fertilizers. Our poultry does most of that work for us.

We always try and use compostable packaging. As a biologist, I am committed to doing things sustainably.