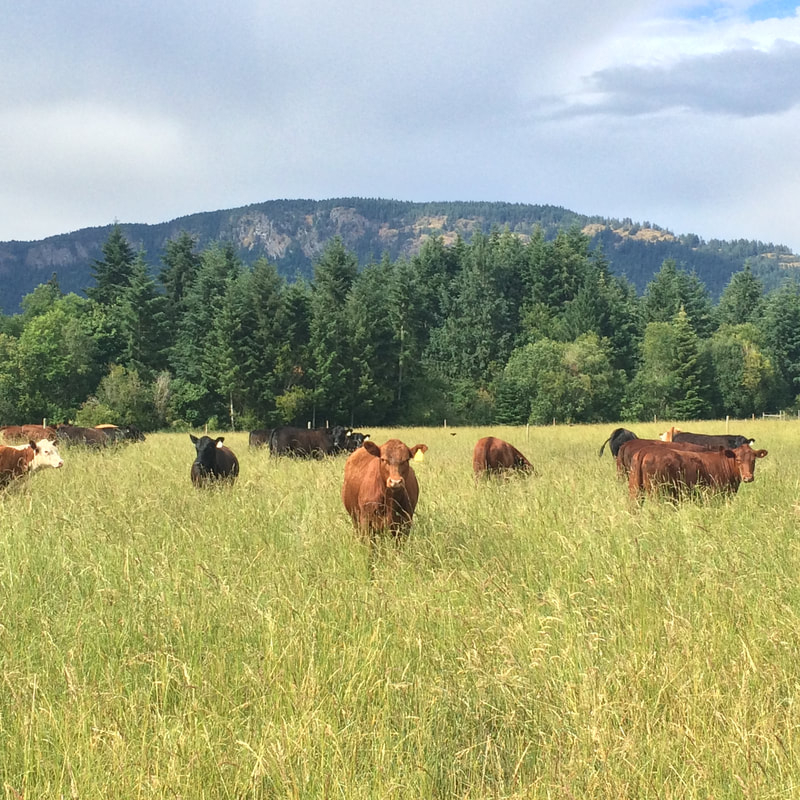 Henry Farms Grass Fed Beef
Address: 1995 Bartlett Road Cowichan Bay, BC, V0R 1N1
Phone: 250-748-0574
About Us
Henry Farm
Fulfilling a long held desire to be directly involved in Agriculture my wife Effie and I purchased our Cowichan Bay agriculture property in 2004, since then we've been busy developing the farm which now consists of a third of an acre of Market garden, a half acre of wine grapes and a small planting of raspberries, plus over 20 acres of fenced grass forage that we hay and pasture. Both Effie and I were raised on farms, Effie on a mixed potato and beef farm in Bath, New Brunswick and myself on a Beef ranch in Shergrove, Manitoba. I graduated with a Bachelors Degree in Agriculture from the University of Manitoba, and have spent my working life as a Professional Agrologist with the Provincial Government and since leaving the civil service in 2004 as an Agriculture consultant and farmer on Vancouver Island.
Practices
At our Cowichan Valley farm we are committed to producing high quality beef while taking advantage of the abundant and highly nutritious grass forage pastures. Our move to Grass-fed beef reflects our philosophy that beef cattle ranching as done by our grandparent is truly "Sustainable agriculture". We believe and practice low stress cattle raising techniques, and have developed our farm to facilitate low stress careful handling of our animals. Reduced stress during transport and before processing is a significant factor in the tenderness of our beef.

By concentrating on forage quality and cattle genetics (Red & Black Angus) suited to Vancouver Island pasture we are able to produce a truly local 100% Vancouver Island beef of exceptional eating quality. We also take care in selecting young cattle for our beef which also enhances it's tenderness. Our continued business success is based on our beef flavor, juiciness and tenderness so we guarantee your satisfaction. Our beef's quality is a result of good on farm production practices and at the meat processing and butchering facilities.

We only sell traditional dry aged beef. By dry aging our beef in a temperature-controlled hanging room for 21 days we are able to enhanced it's tenderness through the actions of natural enzymes. Typically both the amount of connective tissue (collagen) and the resistance of collagen to breakdown during cooking increases as the animal becomes older.
The dry aging process allows the natural enzymes to breakdown the hard connective tissue in meats and the water to evaporate away, concentrating the flavor. Dry aging is done by hanging meat in a controlled, closely watched, refrigerated environment. The temperature needs to stay between 33° F and 36°F with humidity of about 85% to control the water loss.