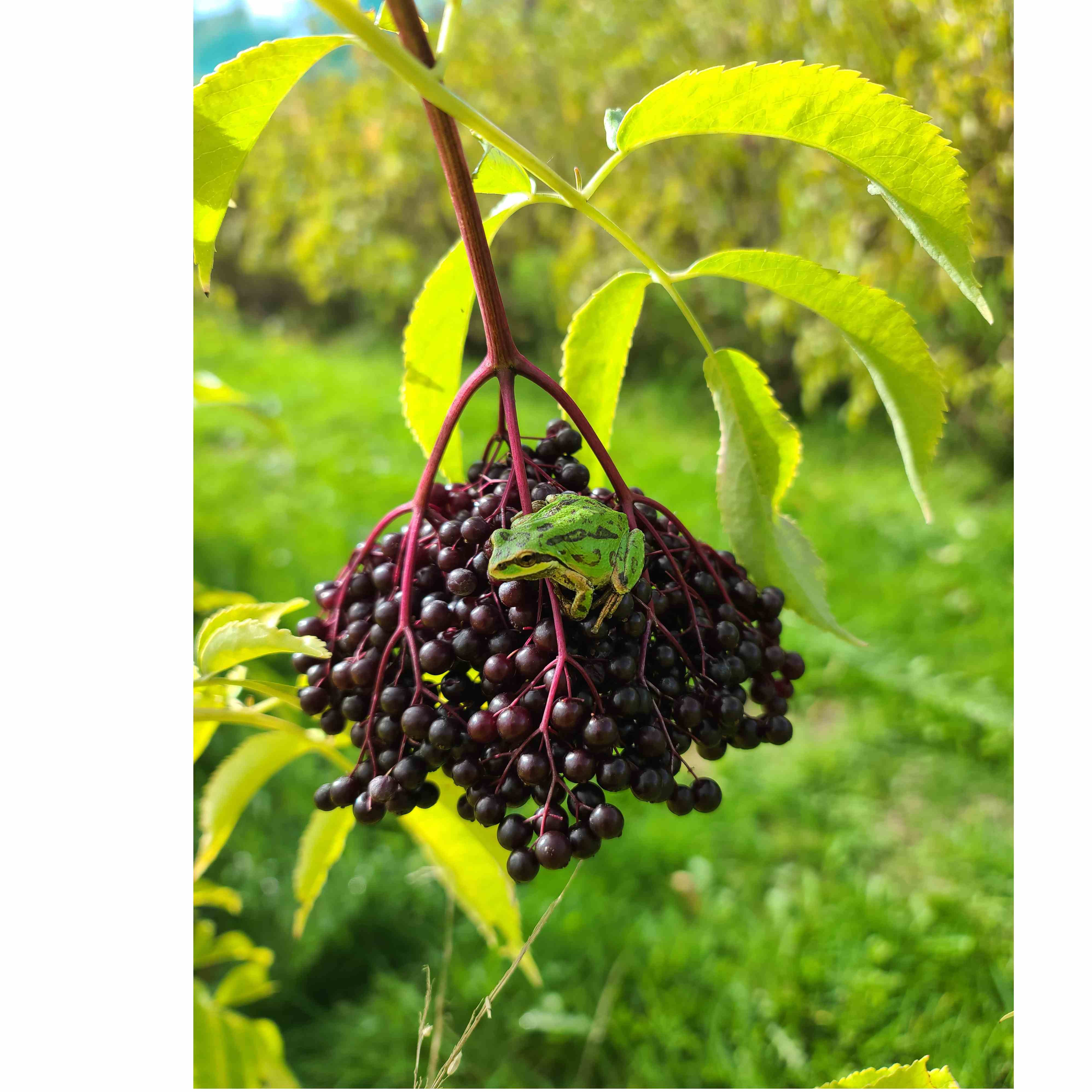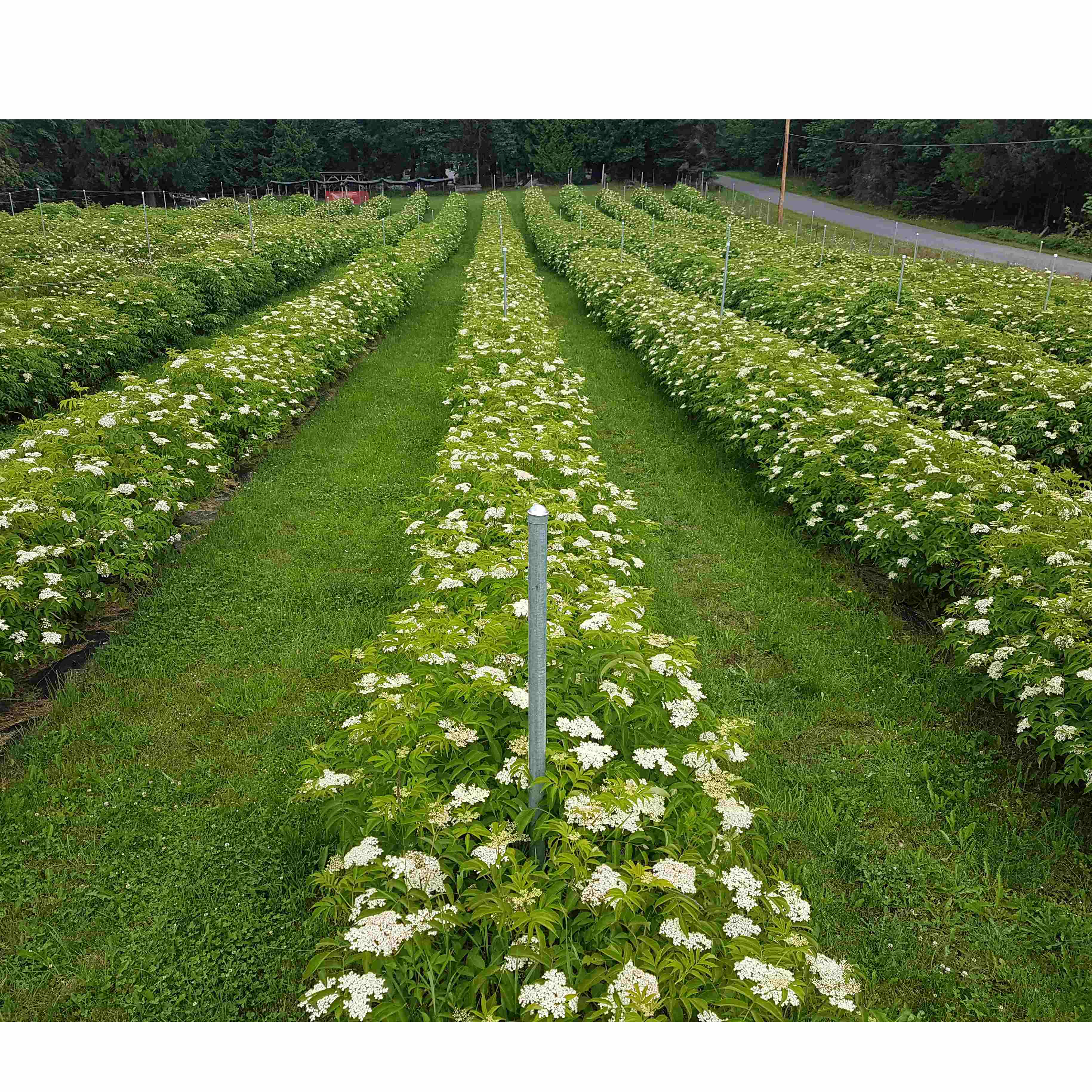 Wise Elder Elderberry Farm
Contact: Skye Hitchcock
Address: 1745 Cowichan Bay Road PO Box 2533 Cowichan Bay , BC, V0R 1N0
Phone: 250-710-0313
About Us
We named our Farm "Wise Elder" Elderberry Farm in tribute to the Elderberry! The Elderberry is a beautiful and dynamic plant that offers so many incredible food, drink, and medicinal options. We love elderberry for this reason and depending on the season, we get to meander through the orchard and take in its beauty, the deep rich coloured berries contrasted against the green foliage, and breathe in the sublime fragrant elderflower blooms.

Going back probably about 15 years now, Benjamin and Skye both shared with each other their own personal experiences of the potent health benefits from using Elderberry products. Benjamin was influenced by his European background with the widely used Elderberry plant for medicine. Skye being very enthusiastic with nature had a strong desire to work with a natural whole food approach to health and healing which was the incentive for her to work with the Elderberry.

Now fast forward to 2014 we both experienced a strong feeling that we needed to somehow educate and offer this amazing plant's benefits to our Community. We wanted to grow Elderberry! Through this inspiration we were led to the land we now lease (3.25 acres) from two wonderful farmers that were very happy to give an excited and adventurous couple a chance to work with the land. Through this beautiful relationship that was formed, we learned that in B.C. over 43% of farm land is leased or rented to other potential farmers! So if you feel inspired to farm, check out the many resources and initiatives to help farmers farm!

We feel so grateful to have this opportunity to farm and grow Elderberry and to offer its gifts to you. We have not yet had the time to create more elderberry products off the farm but we would love to offer them to you one day. But for now, we have fresh frozen elderberries, seasonal fresh elderflowers, dried elderflower, bare root plants, and potted elderberry plants. We feel everyone should have an Elderberry shrub growing in their own backyard! We are also excited to share that we are working on a land based winery license to also provide Elderberry wine! An elder seasoned wine maker helped us test how elderberry would do as wine and he shared his feedback and I must quote him, "This is the best non-grape wine I have every tasted!" Now that was an incredible testimony from a talented and experienced winemaker so this has us full fermentation ahead with the wine project! Stay tuned!


Practices
The rubber boots hit the dirt and we became bonafide farmers "officially" in 2015. We feel very fortunate that the land we now farm had already been embraced as Certified Organic. We transitioned into our own Certification with PACS 16-653 and have since been expanding our certified organic operation every year. We started out with 25, bare root plants of 4 varieties. With a no-till approach, we started to farm land that hadn't been tilled for over 25 years. We started out by laying row covers down 4 rows of 320 feet and the first 100 plants only used 100 feet in each row so we had all this amazing soil to work with. We started to grow potatoes, shallots, and corn. You may have been one of the lucky ones to enjoy our hard work through supplying the Community Farm Store those 1st few years with those crops. As new farmers, we shared a lot of "blood, sweat, and tears" during our first few years with intense labour (we didn't own a tractor yet) with rock picking from the field, mulching all the rows by hand in wheelbarrow, and many, I mean many hours on end of weeding but hey, it helps build character right?!

Over the past 7 years we have expanded from our original 100 plants to now growing 1000 elderberry bushes in our orchard. Harvest time is a busy time! The elderberries ripen at different stages on the bush. We can have ripe berries while flowers are still blooming on the same plant. We usually start our harvest in the beginning of August each year. The elderberries need to be harvested daily to keep up with the ripening berries which makes it very time consuming as we make our way through 13 rows of our 1000 plants. Once we have our daily pick, the berries are de-stemmed (we have a specialized "de-stemmer" that shakes the berries off the stems), washed, rinsed, and drained by hand, and then packaged and frozen the same day. Our elderberries are a premium product as much care is taken into what you the consumer takes home. The entire orchard is bird netted during harvest as we encountered birds who like elderberries too so we needed to protect the crop.

As a BC Organic grower, we follow the guidelines of the COABC (Canadian Organic Associations of BC), BCCOP (British Columbia Certified Organic Program), and our Certifying Body PACS that oversee our farm practices with audits and annual Certification Inspections. We are happy to be adhering to organic farming practices as we feel it is playing our part to attempt to be a part of the natural cycle of nature by giving back to the soil from the harvest and to be respectful of our earth and all of its inhabitants. Having a certified organic farm and adhering to the high standards to us is beyond a shadow of a doubt well worth it!!

The land we farm borders Shawnigan Creek which provides an abundance of nature and animals. We have a new bald eagle's nest in the forest along the creek overlooking the farm. Our chickens and Indian Runner ducks aren't too happy with the new neighbours though. We have Roosevelt Elk coming out of the creek in behind our Elderberry orchard grazing in our hay field. Black bears have come to visit the beehives and a cougar has been spotted too. We have a family of Barred owls sharing the forest. The elderberry orchard is a thriving habitat for tree frogs. We are hopped onto regularly and have to be careful when de-stemming the berries that we are frog free! We are surrounded by beauty! Thank you all Community for your support. We hope you enjoy the elderberries, the elderflowers and our plants as much as we do!