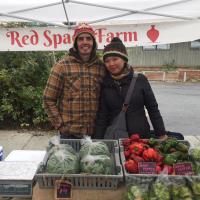 Red Spade Farm
Contact: Matt Pieterson and Christy Zhou
Address: 3390 Henry Road Chemainus, BC, V0R1K4
Email Address: matt@redspadefarm.ca
Phone: 778-971-0088
About Us
We are a small-scale, diverse, four-season vegetable farm located on a 2 acre property in Chemainus, BC. If you would like to meet us, we are at the Duncan Market every Saturday, the Chemainus Market on Wednesdays during the summer season, and at our farm in Chemainus, BC most other days of the year!
Practices
We rely on biologically active soil to feed the plants we grow, and to this end compost is the foundation of our fertility management.
To control insects and weeds, we do not use any pesticides or herbicides. Instead, we rely on insect netting to keep pests from our crops, and cultivation and flame-weeding to manage weeds.