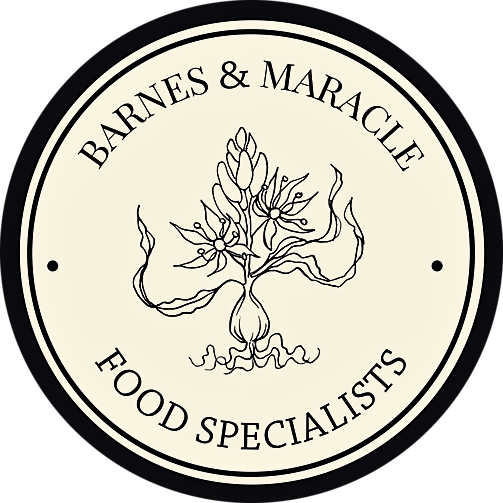 Barnes & Maracle
Contact: Star Maracle & Sarah Barnes
Address: 1930 Stamps Rd Duncan, BC, V9L 5W1
Phone: 250-710-1058
About Us
We built our kitchen in the beautiful Cowichan Valley. The kitchen is located on Sarah's families farm & we will be farming more this year on the property right outside the kitchen door! Star also lives around the corner from the kitchen in the middle of a vineyard & intensely farms there as well. We believe in local & organic.
Practices
Barnes and Maracle is a new catering company in the Cowichan Valley. It was developed by Star Maracle and Sarah Barnes both well known in the Cowichan culinary scene. Sarah and Star have complimentary food philosophy's and cooking styles to bring you a wide range of food possibilities. With their combined knowledge of food and attention to detail both ladies are passionate about creating indulgent experiences with quality ingredients.

Star grew up in Southern Ontario on a fruit farm, eating peaches that were warmed in the sun. She learned about luxury food from her aunt, dining on frog legs and escargot in lavish French restaurants from a very early age. Her professional career began at 15 as a prep cook and she quickly learned and climbed up the restaurant ladder. A sense of adventure led Star to Austria to apprentice on a sheep farm learning how to make cheese and cured meats. Star has worked with local farmers, milked goats for Haltwhistle cheese and helped friends build their culinary businesses. In addition to her restaurant and farming experience Star has a comprehensive wine knowledge having completed her level 3 WSET and working as Wine Director of Cabana Bar and Grille in Kelowna. This knowledge makes Star an excellent person to ask when wanting a wine pairing consultant for your event.

Sarah's humble roots begin here in the Cowichan Valley learning how to cook from her mom, aunt and grandmother. Her grandmother taught her to always have enough food on the stove to feed a small army as you never know who may stop by and the door was always open, a philosophy that continues for Sarah to this day. Sarah's first professional cooking job was on her fathers commercial fishing boat when she was 14 years old. Eventually her love of food and cooking led to opening NOW restaurant in 2010 a funky venue with spicy noodles and delicious bites. After NOW closed its doors Sarah returned to working for her mentor Fatima Da Silva at Vinoteca on Zanatta Vineyard. Sarah cherishes the years of working of with Fatima and being inspired by her delicious food and generous spirit. Sarah has been wining and dining the Cowichan Valley for the last 15 years and her love of food goes back to the beginning of time.

Sarah and Star hope to feed you well, ply you with wine and make you laugh.