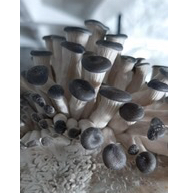 North Cap Mushrooms
Contact: Dylan Jones
Address: 2696 Worthington Rd Shawnigan Lake, BC, V0R 2W1
Email Address: northcapmushrooms.dylan@gmail.com
Phone: 250-740-1710
About Us
Feeding my friends and family has always been a joy for me, so I wanted to do something that involved nourishing my local community with high-quality, home-grown food. I've always been interested in fungi but the pandemic really drove home the importance of sustainably produced local products. Keeping that in mind, I looked for mushroom strains across the world that could consistently produce fruits regardless of the season.
Cut to today and I'm working hard to provide the freshest gourmet mushrooms year-round. Mushrooms are as delicious as they are versatile! I hope that people across the valley and neighboring communities can enjoy incorporating my products into their many dishes, regardless of the season.
Practices
With climate change being quite literally at our doorstep, I found it important to experiment with new production techniques that use less energy and resources to make my operation as sustainable as possible. I currently employ a combination of sterile-technique lab practices and low-energy production methods. I also grow my mushrooms on sustainable wood by-products to ensure that every mushroom has the lowest environmental impact possible. Think green! Eat mushrooms!